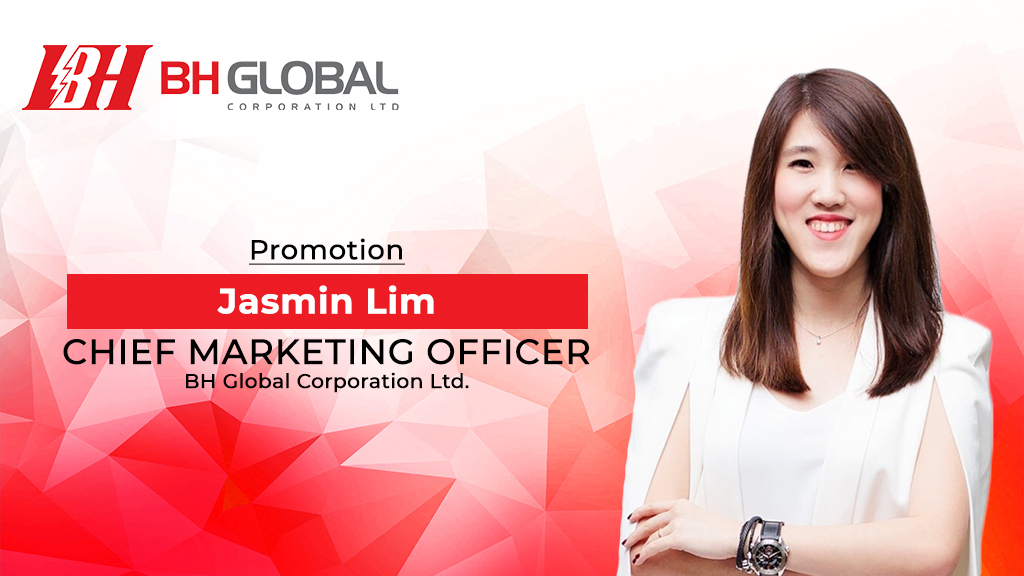 BH Global Corporation Ltd is pleased to announce the promotion of Jasmin Lim to Chief Marketing Officer of BH Global Corporation. Jasmin works directly with Patrick Lim and Vincent Lim – COO and CEO of BH Global Corporation.
Jasmin worked closely with and assisted management to implement Group-wide marketing strategies and activities. She is also responsible for driving Corporate brand awareness, customer acquisition, and revenue growth through effective marketing initiatives, market research, and collaboration with cross-functional teams within subsidiaries.  
She has proven her capabilities in leading the Marketing and eServices team of BHM, and is also assisting the COO in managing the Sales and Business Development teams. She has also brought in continued new clientele and business opportunities for the Group and looks to build a network of strategic partnerships.
She is taking charge of Sustainability of the Group's business through evaluating Sustainability trends and suggesting relevant Green projects to drive adoption of ESG practices within the Group.
Jasmin balances a practical mindset with creative business acumen. She stays updated on industry trends and fosters innovation to drive the Group's competitive advantage in the market.  
She is a Council Member of Singapore Association of Shipsuppliers & Services (SASS) and is also assisting Association Of Singapore Marine Industries (ASMI) Women's Wing in their efforts to Engage, Encourage, Equip and Empower women in the Maritime Industry.
BH Global would like to congratulate Jasmin on her promotion. Her leadership, dedication, and hard work have earned her this recognition. The group looks forward to seeing Jasmin take on this new challenge and bring her skills and leadership to this new position.